Bottom End vs Cut End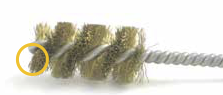 A bottom end style brush features a turned end at its tip, with the filaments twisted all the way to the tip of the brush. The turned end protects the bottom of the closed hole from being damaged.
Series 85 brushes feature a bottom end style design.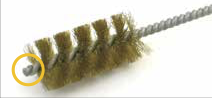 Cut ends are used for through hole applications.
Available Cut End Brushes:Series 81, 83 and 84