Have you tried BRM Flex-Hone tools for chamfer blending? They round the transition between beveled edges and through-holes.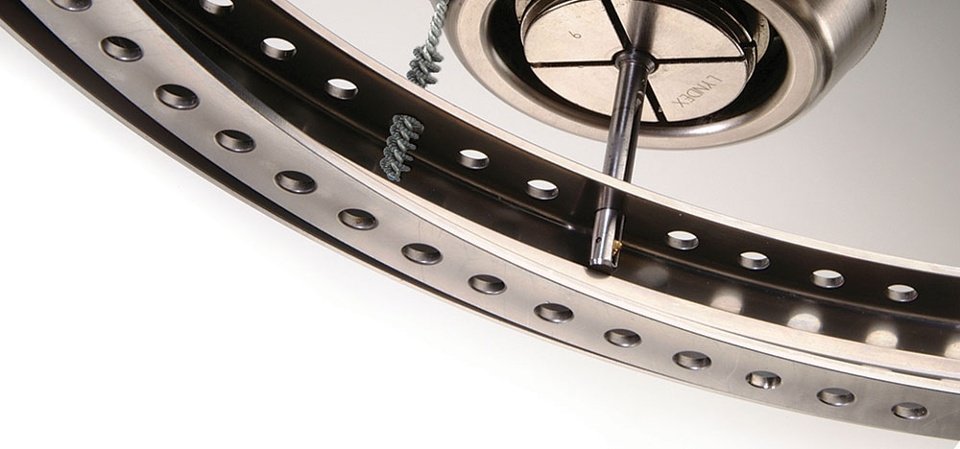 Brush Research Manufacturing presents the newest innovation in the continuing evolution of Flex-Hone technology : Flex-Hone for Chamfer Blending. This unique Flex-Hone design has the ability to blend and radius sharp edges and remove microburrs on chamfered holes eliminating stress risers caused by the chamfering operation. The Flex-Hone for Chamfer Blending comes in a variety of grit sizes and abrasive types and is suitable for finishing titanium, inconel, super CVM and nickel based stainless steel alloys. This tool eliminated hand finishing operations and produces consistent finishes from hole to hole, part to part.

Our new series of tools is flexible and designed to polish and radius the outer corners (the intersection of the chamfer and flange face) as well as the inner corners and hole. The increased flexibility allows the tool to pass through thin web sections and polish the chamfer on the back side as well. Polished and radius chamfer surfaces have been shown to be very beneficial on critical rotation parts.
Flex-Hone tools order by nominal Bore size, diameter from 4mm to 22mm.
Tool Selection – The tools are produced oversized to provide the optimum cutting pressure. If a bore is between our standard sizes, the next larger tool should be selected. Each tool diameter is designed to cover three ranges of countersink sizes: 0.005-0.15″ (per size), 0.015-0.030″ (per size) and 0.030-0.050″ (per size).
Please contact us for more details or ordering assistant.